Shop Battery Box for Lithium Battery
At EarthX, we carry a series of custom designed, lightweight, battery boxes for our lithium iron phosphate batteries.  Explore the battery boxes on our site and buy yours today.
About EarthX Battery Boxes
At EarthX, our available battery boxes make installing your new battery quick, easy and professional looking with durability and weight savings features. The types we carry are as follows:
Lightweight custom-designed aluminum battery box: Aluminum offers superior protection without adding much weight. The lightweight aluminum boxes we carry can weigh as little as 5.3 ounces, depending on the size, to keep your EarthX battery safe and secure in flight. Our custom-designed boxes are made specifically for different EarthX battery models for a snug fit — no foam spacers required.
Thermal battery box: Thermal battery boxes are designed to protect your battery from radiated or convection heat. These thermal models will provide protection during periods of high temperature with reflective steel metal and high-performance insulation.
Multi-use designed battery box: Our multi-use designed boxes are made specifically for different EarthX battery models or for the Odyssey PC680 battery with the use of foam spacers.
Benefits Of EarthX Battery Boxes
Battery boxes are a beneficial addition to EarthX Batteries because they:
Contain the battery: A battery box secures your battery in place to protect it from movement as it operates on the ground and in flight.
Weight reduction: By using lightweight materials, this reduces the weight as compared to a heavy steel box used for a lead acid battery.
Provide insulation: Maintaining an appropriate operating temperature is critical to the life span of your battery. Thermal insulation with a battery box helps to maintain that operating temperature when installed in the engine compartment.

Recommended Lithium Battery Boxes
EarthX-recommended battery boxes work with select batteries based on their sizes. Use the following guide to find the right case for your battery: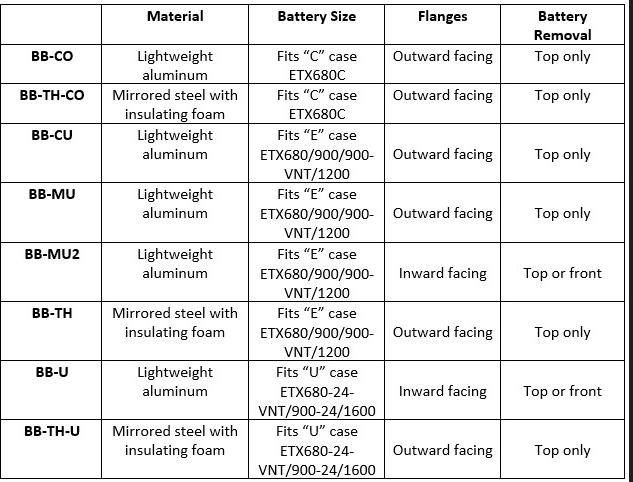 You can explore EarthX models by voltage on our main product page.
Buy Battery Boxes For EarthX Batteries
EarthX designs lithium iron phosphate batteries for superior performance. Add a battery box to protect your investment, make your battery more secure and increase the life span of your EarthX battery. Add the right battery box to your cart today.
Need more information? Get in touch with our team to learn more.