If you need a long-lasting, powerful, safe and environmentally friendly battery to replace an outdated lead-acid one, turn to EarthX. With the advanced technology of EarthX Batteries, you can see performance benefits that exceed your expectations. We offer 12-volt and 24-volt batteries with all the accessories you need to keep them running for years of use. EarthX batteries offer massive cranking power with a higher resting voltage than a lead acid battery providing unbelievable engine starting power. They can also be used as a deep cycle battery providing you with one of the most versatile batteries out there, and at a fraction of the weight!
SELECT YOUR VEHICLE FOR MORE INFORMATION
What Are EarthX Batteries?
EarthX Batteries use Lithium Iron Phosphate chemistry to deliver powerful starting energy to your vehicle or application. This chemistry provides the highest, most robust performance and safest power on the market. EarthX assembles, engineers and designs all our batteries in the United States, allowing us to monitor the production process closely for the best result and provide excellent customer service. 
Select EarthX Batteries are approved by the Federal Aviation Administration (FAA) for use in certified aircraft. They operate well in a temperature range from +60 degrees Celsius to -30 degrees Celsius, the largest operating range available. With safety certifications and an extensive operating range, these batteries serve many uses.
They Really Are That Light
As of July 17th, 2023 we have new FAA STC approval's!!
Cessna 120's, 140's, 150's A-C, 175's A-C, 177's, 180's, 182's, and 185's!
Piper's Pa-12, PA-18, PA-20, PA-22, PA-24, PA-32's!
Available now! Save over 21 pounds and increase your cranking power and longevity!
Battery Management System
All EarthX batteries come standard with a BMS (battery management system) for performance, safety, and longevity.
Made in the USA
The batteries are engineered and manufactured in Windsor, Colorado. EarthX is proud to be an American and veteran (Navy) owned company.
FAA Approved
EarthX is committed to research and development and is the first company in history to achieve an FAA TSO approved 12V certified lithium battery for aircraft. EarthX also has a 24V FAA TSO battery and is attaining new STC's monthly!
Use EarthX lithium batteries to power anything from small land vehicles to larger aircraft. You can find various battery options for each motor vehicle or aircraft. Choose 12V or 24V options to suit your vehicle demands.
Here are some applications our batteries work for:
Race cars and other performance vehicles where weight and power matter
Power your OEM equipment for manufacturers of custom products
Deep cycle and cranking needed applications as EarthX batteries can do both
Benefits of Using EarthX Batteries
If you currently use lead-acid batteries for your power, switching to our lithium batteries offers many advantages, including:
Weight Reduction
Lithium batteries are 80% lighter than lead-acid equivalents, meaning you get better performance and speed from aircraft or racing vehicles or seriously lighten the load of carrying around equipment that is battery operated.
Speedy Charging
These batteries charge two to three times faster than lead-acid so you enjoy less downtime during charging.
Power
In the 12-volt series, you get a resting voltage of 13.28 volts which will crank over your engine faster and better. Lead-acid batteries get only 12.6 volts at resting voltage.
Long-lasting Usability
Typical life span for an EarthX lithium batteries is up to 6 years before you need a replacement.
Flexible Mounting
EarthX has a proprietary design that allows these batteries to be installed upside down or sideways without fear of leaking acid and damaging your vehicle or equipment. With the center terminals, you just need to rotate the battery 180 degress to have the polarity you need. Never order the wrong polarity battery again.
Environmentally Friendly Interior
Lead-acid batteries cause harm to the environment when they leak. Lithium batteries are nonhazardous, nontoxic and nonpoisonous. They will not sulfate, boil over, freeze or corrode.
EarthX Batteries also offer benefits over other lithium batteries. We provide a state-of-the-art comprehensive Battery Management System (BMS) that monitors charge levels and protects from overcharge or over-discharge. The BMS gives thermal protection, short circuit protection and built-in cell balancing.
We also test all batteries to industry standards, including SAE, UL and CE. We are the only lithium battery company to have 12V battery that meet FAA Technical Standard Orders (TSO), meaning they satisfy extreme safety standards for equipment used in general aviation aircraft.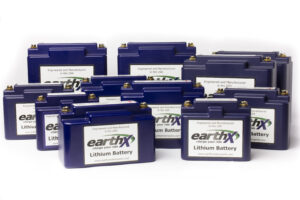 Browse Our Lithium Batteries